We are talking more and more about agile squad in companies that embark on agile transformations. But what is a squad?
The Spotify model at the origin of the agile squad
This term Squad used by a large number of companies comes from the Spotify model (although it is not necessarily initially created by Spotify coaches). The Spotify model, which has been influenced by others, has become a type of organization that has been copied in recent years.
To learn more about this Spotify model, don't hesitate to read the article I made to talk about it.
Article: Spotify model: Agile at scale
Why is an agile squad not a classic team?
The Squad is a multidisciplinary and autonomous team that is able to produce a product from A to Z by itself. While this may seem obvious at first, it is very rarely the case in large groups.
Many companies have created silos that prevent teams from being autonomous. Sometimes these silos are themselves divided into several separate silos.
Here is an example of the type of silos that can be found in French companies.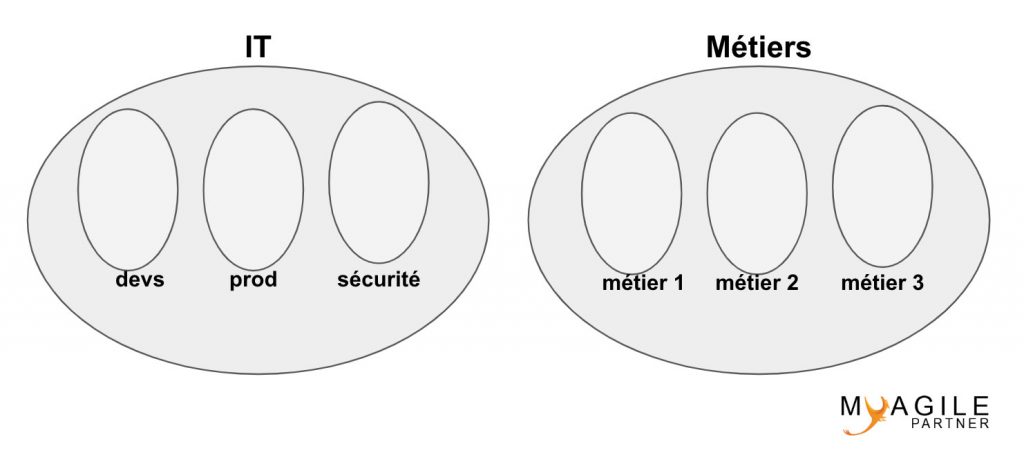 When the IT is itself in silo, the production team will be totally dependent on other services such as: the security team, the production team, the architecture team …
In the concept of squad, we want to reach the model that meets the following pattern (created by Yann Fumeaux). The squads:
are 100% responsible and autonomous
have a clear mission
are multidisciplinary
will focus 100% customer
are pizza team (max 8 members including max 5 real)
Here is the drawing that I like very much presented in company: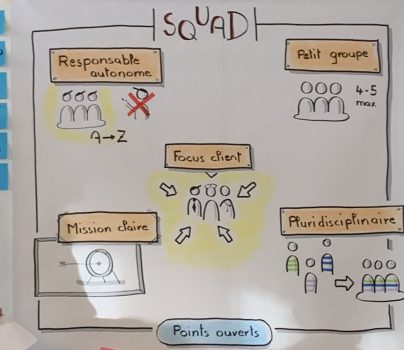 Let's start with an agile squad pilot
When silos are very important, I advise you to start with a pilot project that is very likely to succeed. By launching several squads, you could experience an unprecedented failure because the organization will have to take time to adapt. You have to privilege un "fail fast"…
In companies that are still under these concepts of silos, it will be essential to gather a person from each silo essential to the smooth running of the mission entrusted to the team.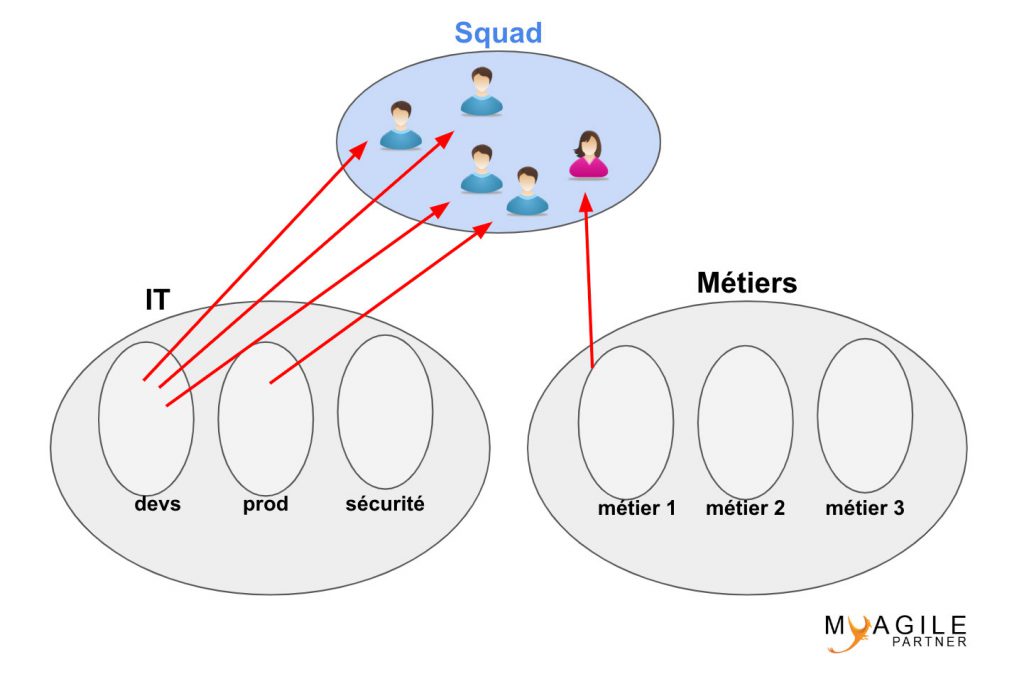 It will be necessary to ensure that this Squad will have the mandate to do its mission entirely of itself.
If a resource is not needed 100% throughout the project, you can have an external expert from time to time. By cons this one if possible will have to integrate the team during his work for the team to be closer to the individuals of the squad.
Agile Squad: missions and not components
A squad must have clear missions related to the needs of the moment. It will work as a small internal startup with objectives to not forget the importance of innovation.
It will no longer be locked into a specific component of the business but will actually be linked to truly value-based missions. This also imposes a different organization around her to be the most efficient possible.
Conclusion agile squad
Making an agile squad will involve big organizational changes hence the interest of starting with a pilot project. The organization will have to accept that this concept is not 100% productive right now; however, the results are often very interesting.
(Visited 2,038 times, 2 visits today)