IThe SAFe framework continues to evolve from year to year. What does this next SAFe 5.0 version presented by its authors present?
For those who don't know SAFe, don't hesitate to go to our article which presented the framework in its version 4.5:
SAFe 5.0, the news
To begin with, as with each version, the canvas has evolved with SAFe 5.0. Here's what it looks like in this new version: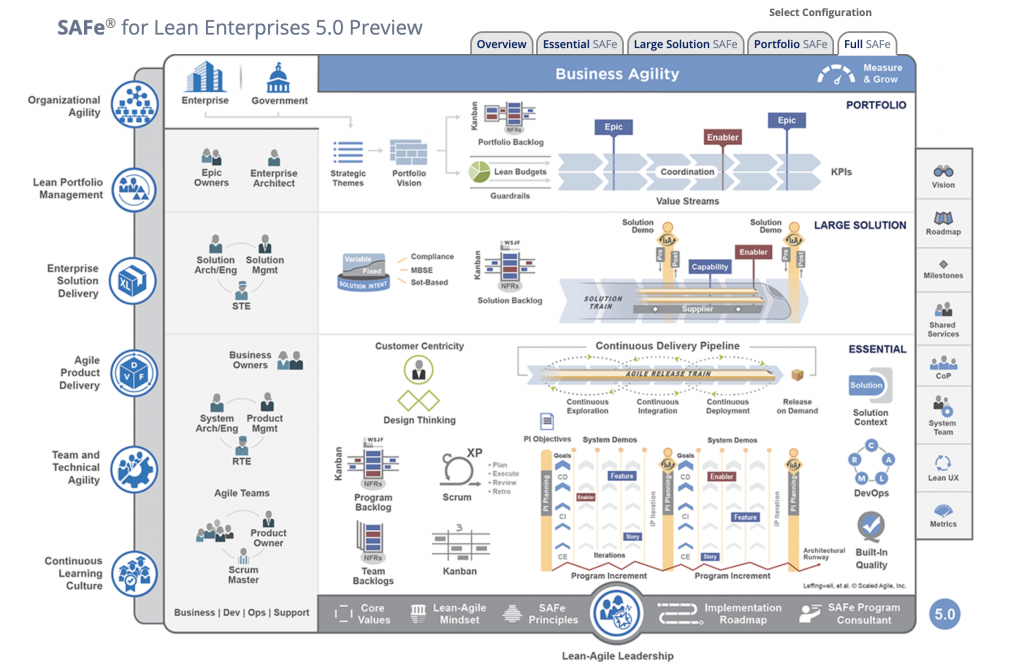 However, this time it presents a new view not included in the SAFe canvas in "full":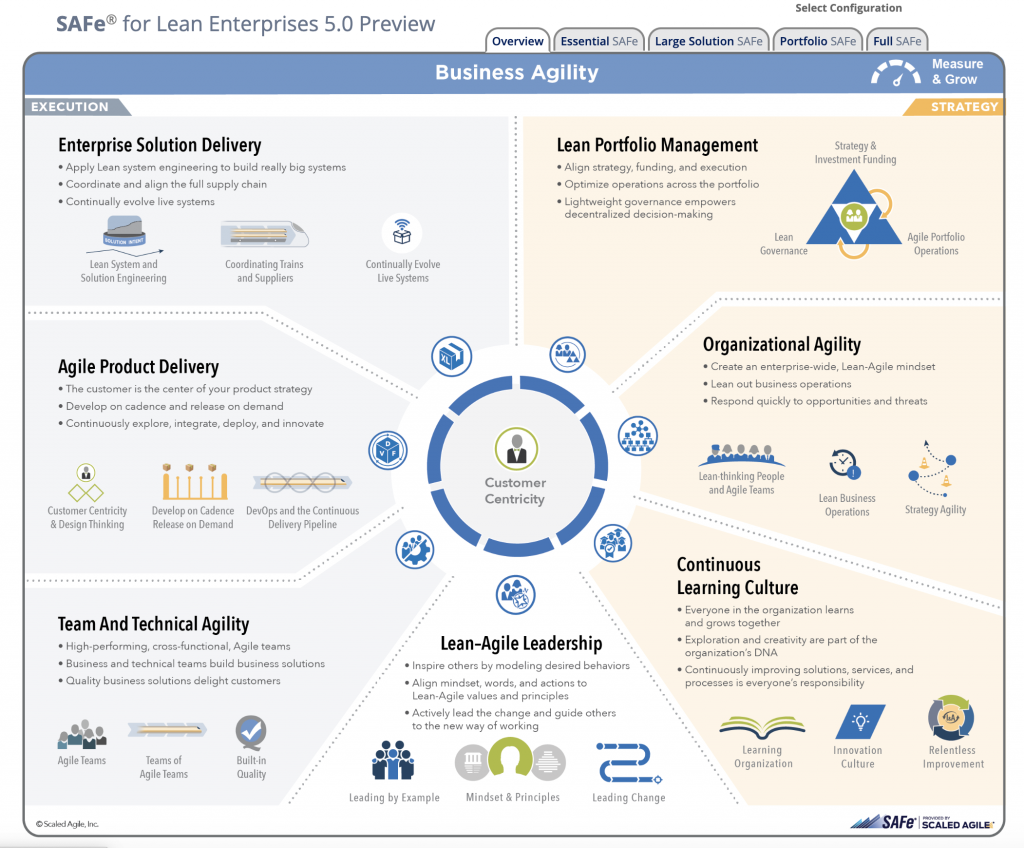 The framework revises some of these principles to make them evolve according to market trends.
SAFe 5.0: Measure and grow
The framework purposes to measure the state of agility of companies and how to accelerate their growth. This will improve overall economic results. Portfolio managers and the Lean-Agile Center of Excellence (LACE) now have a way to self-assess their progress during this journey.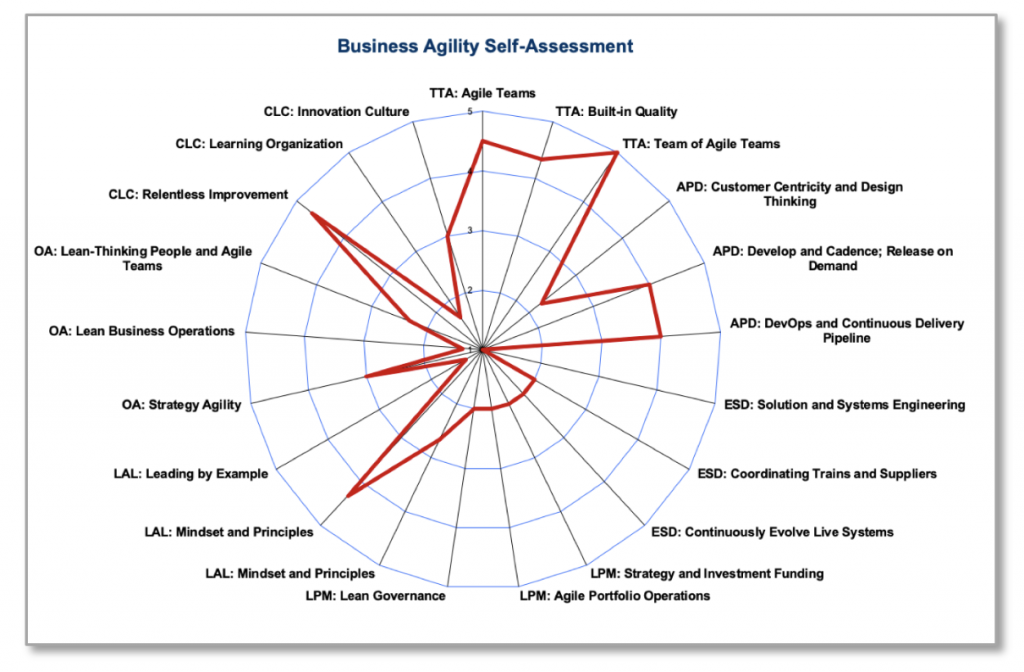 2 new skills
This new version of SAFe seems to follow increasingly strong approaches of agility.
The continuous learning culture: it describes a set of values ​​and practices that encourage individuals or the organization to continuously improve:
knowledge
skills
performances
innovation
The goal is that the companies obtain a learning organization, committing to continual improvement and promoting a culture of innovation.
The Organizational Agility: it explains how people thinking about lean and agile teams
optimize their business processes
develop their strategy with new clear and decisive commitments
quickly adapt the organization as needed to take advantage of new opportunities.
An aspect very close to the first point to explain the importance of being a company in continuous evolution.
No matter what opinion we could have on this framework, it is certain that these two points are taken from the approaches that are integrated more and more in our companies today. Besides, perhaps it is a coincidence but it is an approach that become popular the last year in the great French who did not use SAFe.
Review of certain skills
This more classic part of SAFe brings changes to the framework. However, it should only interest the most experienced in the framework because just some companies really apply the entire framework.
The Team and Technical Agility: has been rewritten and is now organized as it's presented below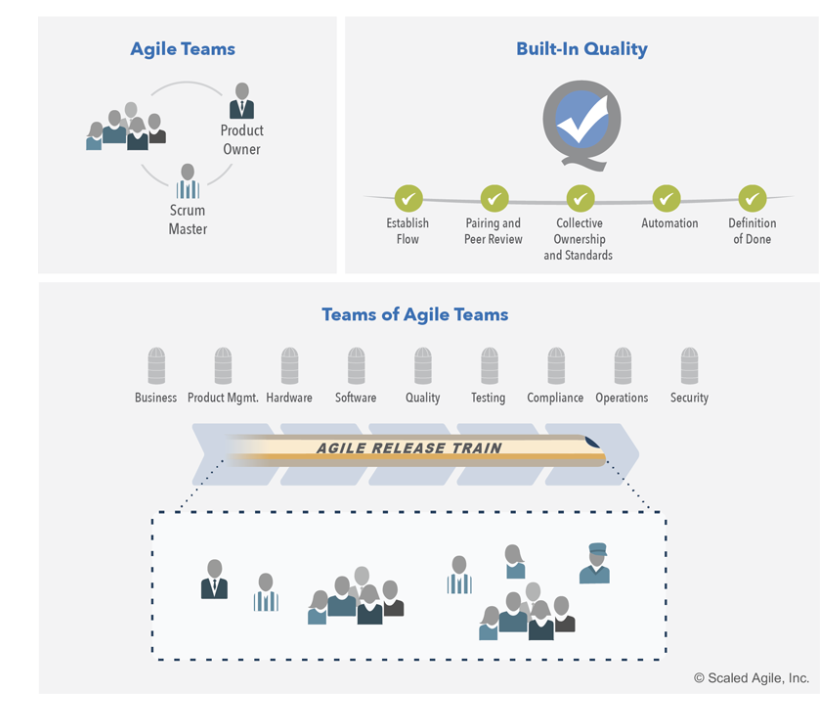 The Agile Product Delivery: the DevOps and Release on Demand skills have been renamed "Agile Product Delivery" and expandtheir directives to include the new dimensions presented below.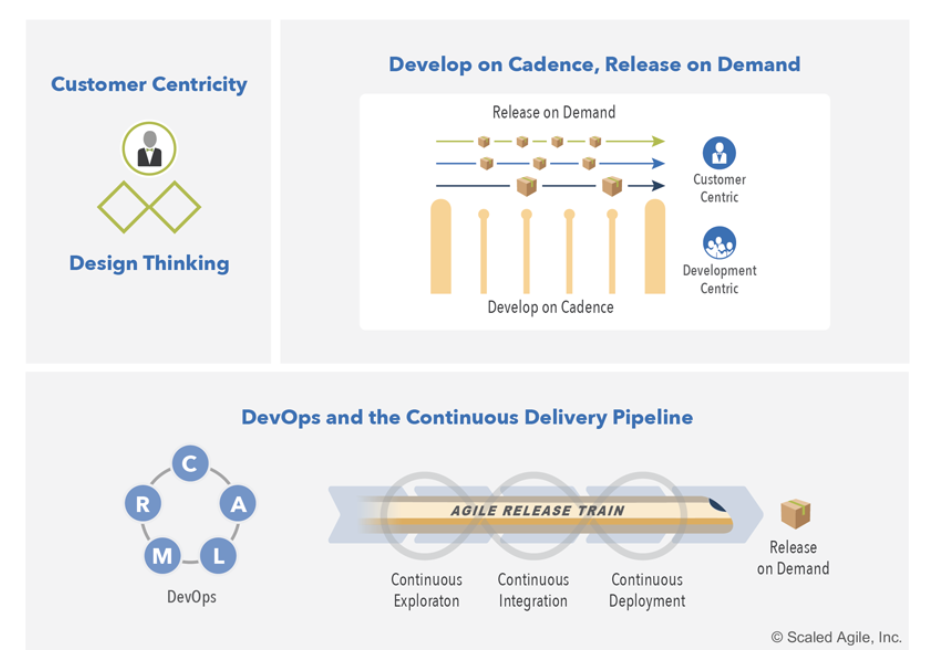 The Lean Portfolio Management: has been rewritten and suggests the organization presented below.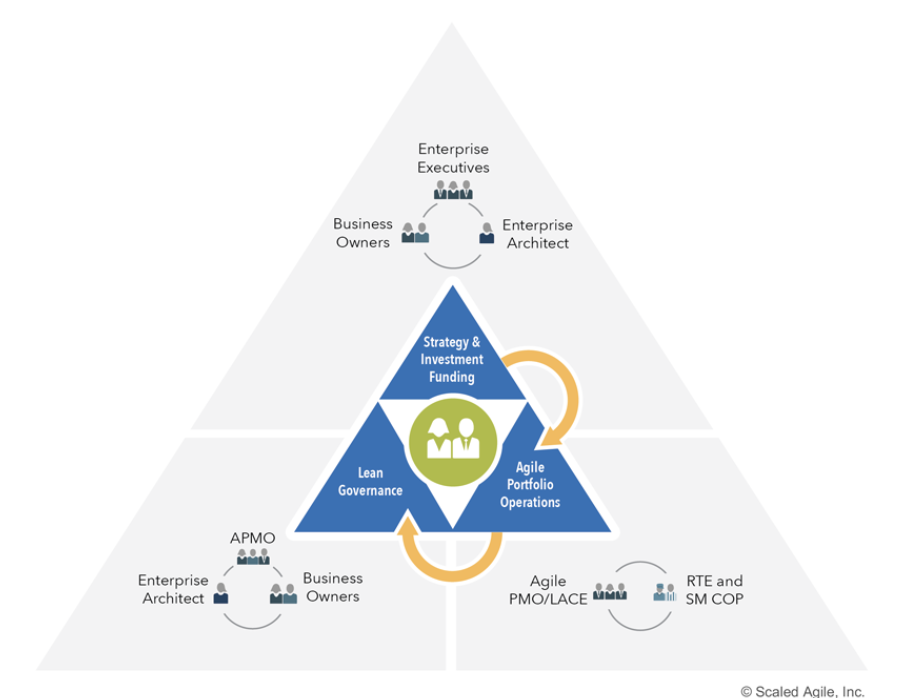 The Enterprise Solution Delivery: the Business Solutions and Lean Systems Engineering area of ​​expertise has been renamed Enterprise Solution Delivery and is broadening its directives to include the new dimensions presented below: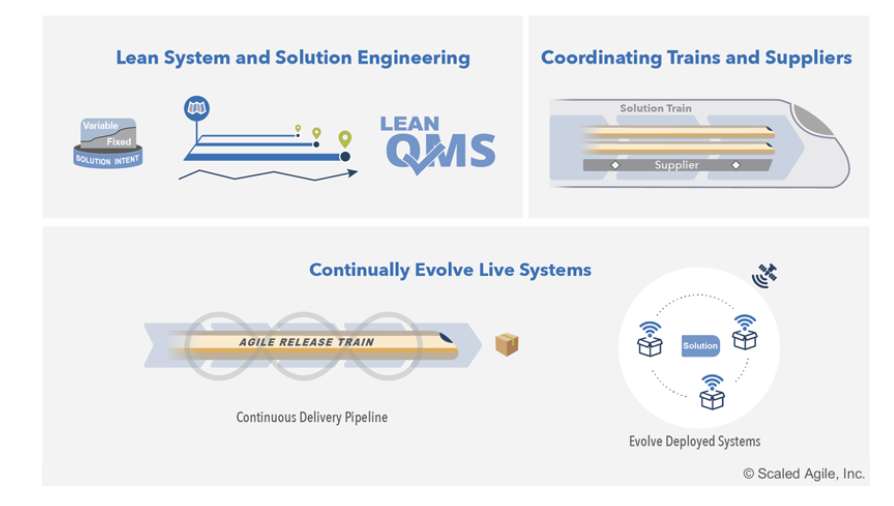 The Lean-Agile Leadership: this article was revised to purpose an organization based on the dimensions presented below: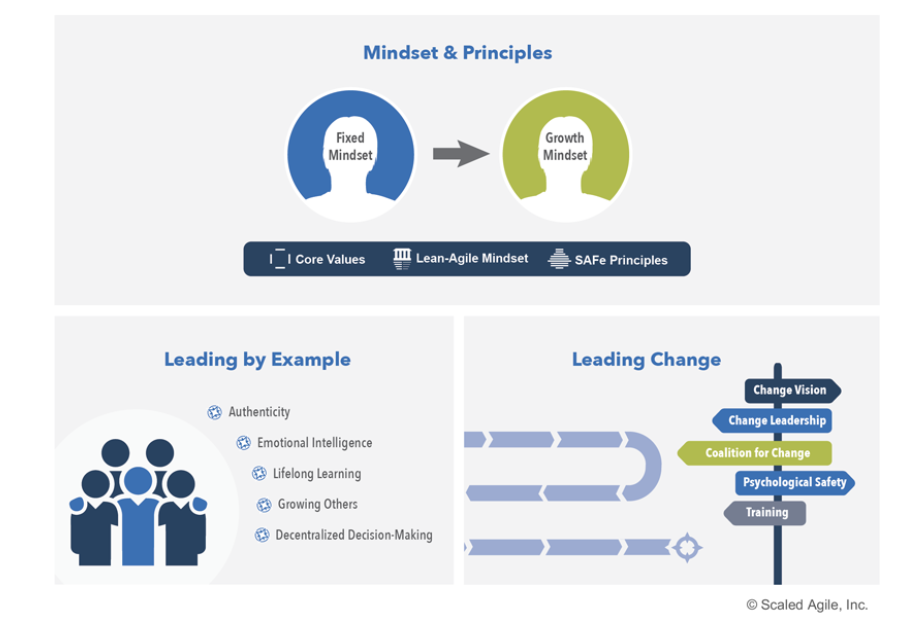 The article on Lean-Agile leadership has been rewritten and is now organized in the following dimensions:
An innovation and user dimension revised upwards
SAFe is adapting to new market trends as it did before with devops. It is therefore logical to see "Design Thinking" becoming an important axis there as well as the "user centric" approach.
Will this be enough for the agilists to really see a sufficient evolution? I have a real doubt about that.
SAFe 5.0: the SAFe implementation reviewed
SAFe 5.0 offers some evolutions to its famous "snake" which explains how to implement SAFe in companies. Here is the picture that show the small evolutions proposed: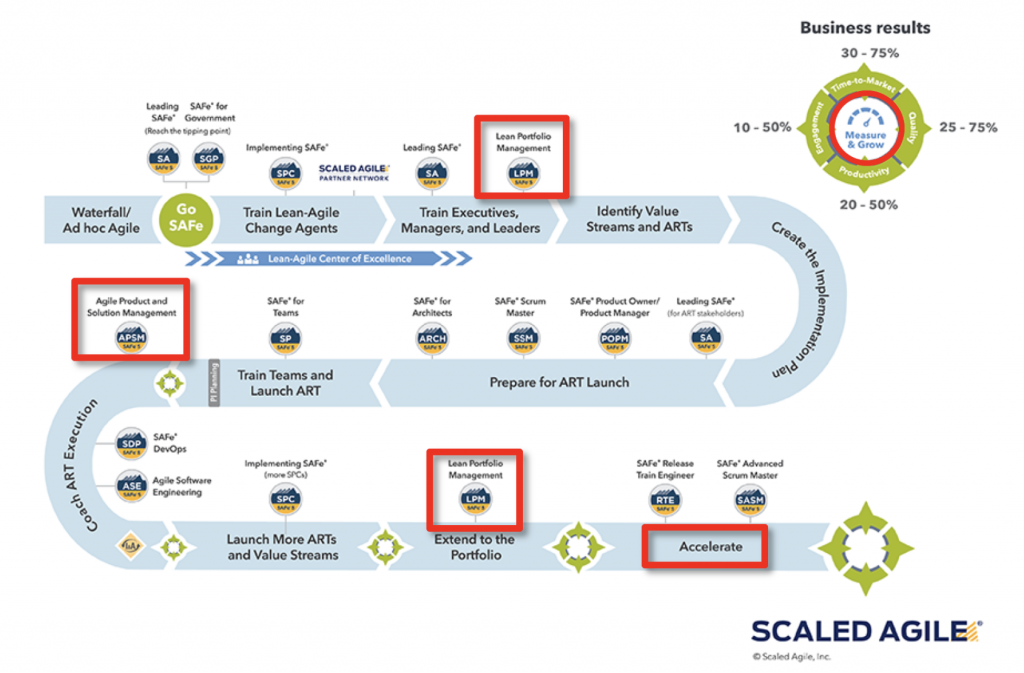 Conclusion SAFe 5.0
To conclude, the anti-SAFe should not change their mind and have additional arguments to say that SAFe is taking advantage of market trends.
On the other hand, although the novelties are not so numerous to upgrade to a new version, SAFists will be happy with theses changes.
Thus, those who wish to renew their annual certification (SPC) and obtain the precious certification of version 5.0 will do; but the anti-safe should continue the SAFe bashing. Indeed refractory people should not change their opinion with this new version of SAFe.
Useful link about SAFe 5.0: SAFe 5.0 in french
(Visited 751 times, 1 visits today)