Do you want to increase your knowledges about SAFe framework? Do you want to understand what an Agile Release Train (ART) is? Then this article is for you.
Agile Release Train definition
First, the Agile Release Train (ART) is the creation of a large team that will work together on a value chain (to simplify a program); it is itself made up of several agile teams (scrum), stakeholders and cross-functional profiles essential to this value chain.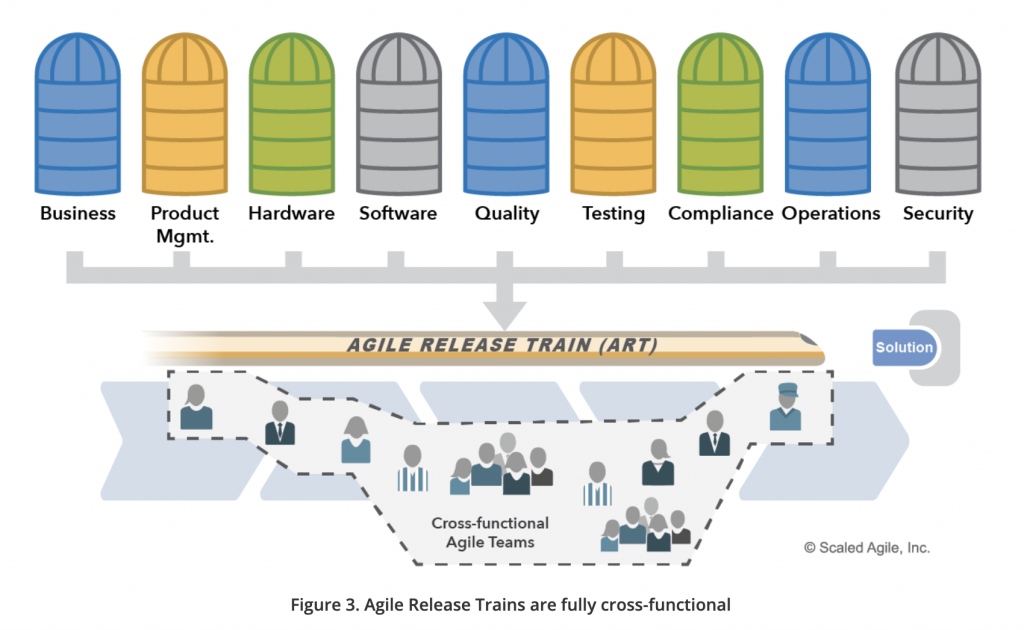 This Agile release train (ART) will bring between 50 and 125 people to work together regularly (but not constantly). This will align all of its members around a common business context and a common technological mission.
Thus, the aim of Agile release train (ART) will be to deliver maximum value together for end users.
Multi-skills to deliver an increment
The Agile Release Train must contain all the skills necessary to produce the product:
software
hardware
firmware
design
test
continuous deployment

Key principles of the Agile Release Train
Here are the key principles which the authors of the SAFe framework cite to define ART:
The schedule is fixed
The train leaves the station according to a known and reliable timetable, determined by the cadence of the program increment (PI) chosen. So, if a function misses a scheduled departure and is not planned in the current PI, it will take the next train.
A new program increment every 2 weeks
Each train delivers a new program increment every two weeks. The demo of the program as a whole provides a mechanism for evaluating the work done, which is an integrated increment for all teams.
Team synchronization
All the train teams are synchronized over the same PI duration (generally 8 to 12 weeks) and have common iterations defined by a start date and a duration.
Train at known speed
Each train can well estimate the quantity of works (new functionalities) that the teams can deliver in a PI.
Agile teams
Agile teams adopt the "Agile Manifesto" and the SAFe fundamental values and principles. So, they apply Scrum, Extreme Programming (XP), Kanban and other quality best practices.
Dedicated people
Most of the people that the Agile Release Train needs, are dedicated full time to the train, regardless of their functional hierarchical structure.
IP planning face to face
The Agile Release Train schedules its work during planning events called PI planning periodically. This planning brings together all ART members to encourage maximum face-to-face communication.
Innovation and planning (IP)
IP iterations occur at the end of each PI and dedicate time to PI planning, innovation, continuing education, and infrastructure work.
Inspect and adapt (I&A)
An I&A event takes place at the end of each PI. The teams demonstrate and evaluate the current state. Then, the teams and management identify the items in the improvement backlog via a structured problem-solving workshop.
Develop on Cadence, Release on Demand
Agile Release Trains apply cadence and timing to help to manage the inherent variability in research and development. However, the release is generally decoupled from the cadence of development. ARTs may publish a solution or elements of a solution at any time, subject to governance and publication criteria.
Agile Release Train: key roles
In ART, there will be key roles to help this organization to function well. These are :
RTE (Release Train Engineer)
Product Management
Architects and systems engineers
Business Owners
Clients
The purpose of your Agile release train
In order to have a real identity and a real raison d'etre, each ART must be defined using the Canvas proposed by the authors of SAFe which you can see below: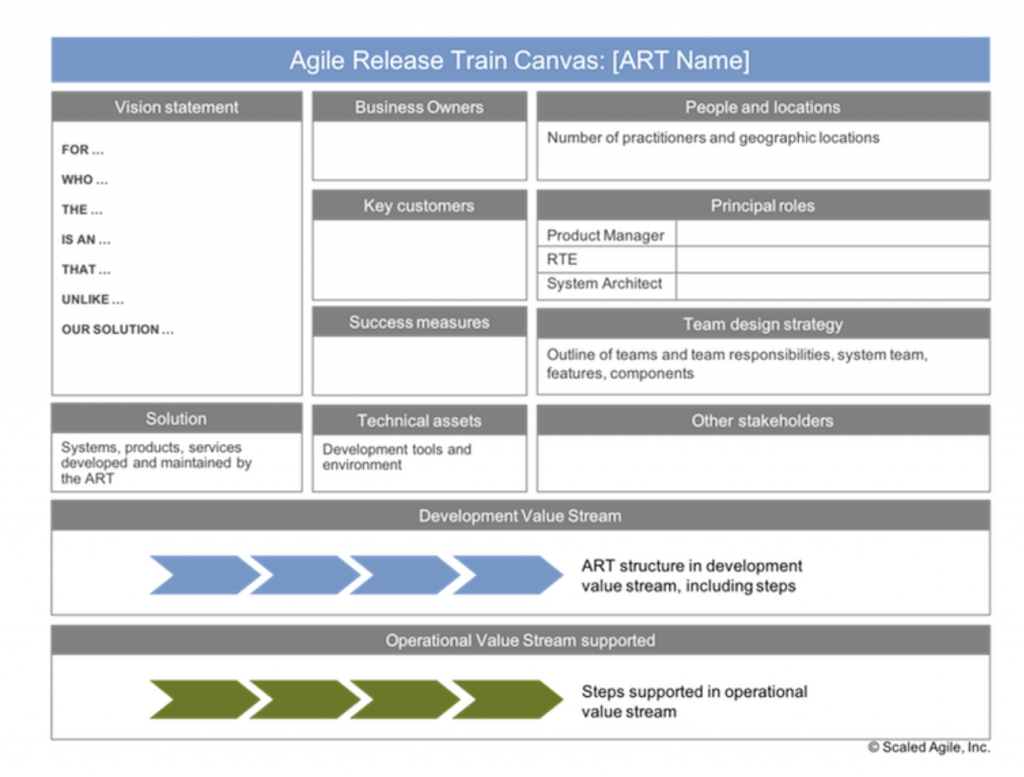 By filling out this canvas, the complex organization of this large team will be clearer for the entire organization.
The cadence of your ART
Your Agile Release Train as I said above, purpose a cadence which is quite complex at first but which allows to synchronize the work of all of its members.
Thus, wanting to be agile, it will work in the form of complex iterations; besides the diagram below describes the cadence of this ART: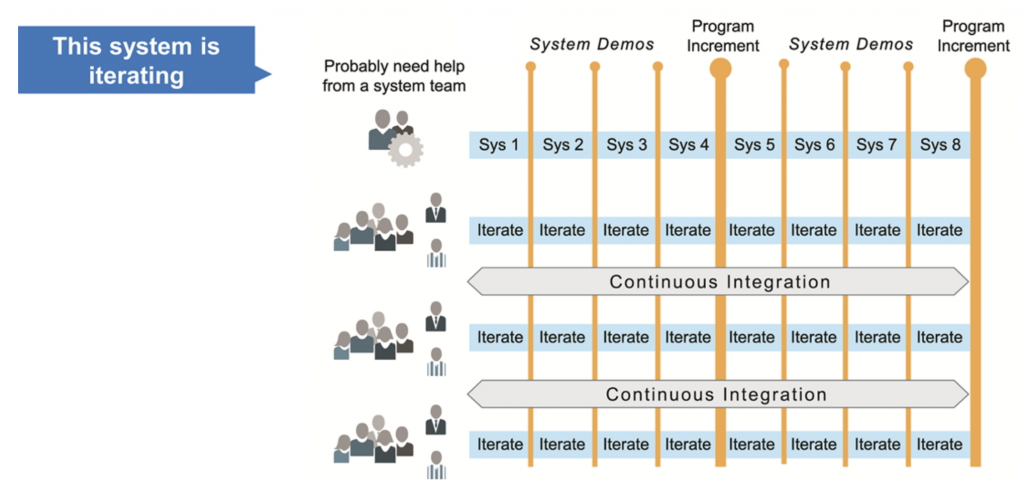 As explained in the key principles of Agile release train (ART), the iterations of each team (usually 2 weeks) will be the same duration and will be synchronized. This will allow to have a program increment every 4 classic iterations.
Conclusion Agile Release Train
More complex in the pictures than in reality, ART (Agile release train)  allows all the essential people to work on the same value chain (or program to simplify).
While some will find it somewhat rigid and say it's "no agile", others will see that like a real working solution. However, don't hesitate to take advantage of the comments to offer the readers your feedback or your opinion on this concept which is quite simply a pillar of the SAFe framework.
Useful link: Le site officiel de SAFe
(Visited 1,610 times, 2 visits today)