Dr. Bruce Wayne Tuckman came up with a model on team cohesion called the Tuckman model. It is interesting to see this Tuckman model which is based on the result of an analysis of more than 50 studies on team theory.
Before going any further, be aware that Dr. Bruce Wayne Tuckman is an American psycho-sociologist who is widely recognized in his profession.
Tuckman model
Tuckman model is not new; it appeared in 1965. It proposed 4 stages in the building of the a small group cohesion: Forming – storming – norming – performing.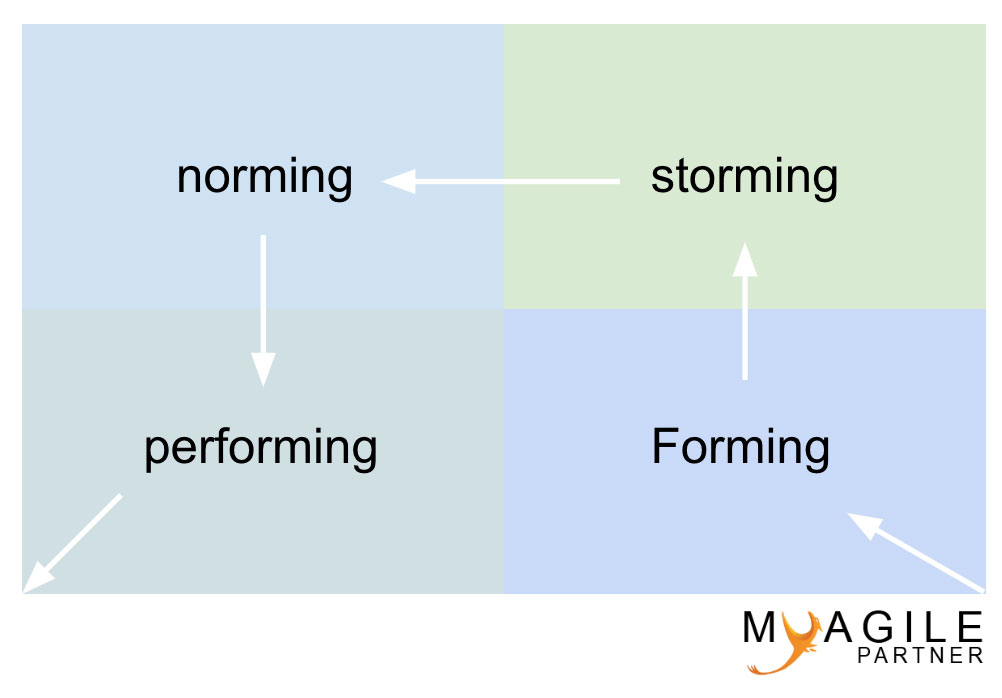 In 1977, a fifth step "Adjourning" was added to the model.
Let's see together now what these 5 steps consist because although this model is a little dated, it remains consistent in our actual organisations. Indeed, if this model is not modern, it remains true today.
Some agile coaches will use this model to provide coaching for new teams.
Tuckman model: 1/ Training
When a group is formed, it must learn to discover itself. Interactions must be built between the different members of this group which may take a little time. We create more possible interactions with larger groups.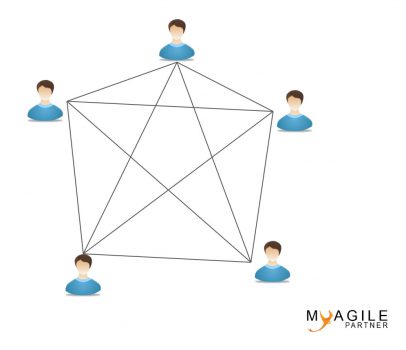 During this step of team cohesion, we will also see some profiles emerge: leaders, followers, complainers … The individuals will also place themselves in some cases and define their responsibilities within the group.
This step is interesting because it is sometimes surprising to see the way taken by certain profiles who did not seem to emerge in this direction.
In teams, emotional connections will also develop. Some individuals in the group will find common points that will create more or less strong bonds.
It is quite rare that tensions arise during this phase of discovery between team members. This step is the discovery time, therefore rather motivating for the whole team.
Tuckman model: 2/ Storming
There always comes a time when the situation starts getting worse for many possible reasons:
weariness of monotonous functioning
a new deadline announced in a very short time
increasingly unclear mission and objectives
ego wars between members
some interaction between members become bad
a member who accepts less the behaviors of another
periodic difficult periods in certain sectors
The team have to understand that is really important to work to decrease the duration of this step; indeed, during this step, the team is not very productive.
In an agile team, the agile coach and the scrum master will have to be vigilant to deal with any tensions between members, to ensure that continuous improvement is real, to renew practices to regularly renew process …
If this work is not implemented, this second stage may last for a long time.
Tuckman model: 3/ Norming
After the storming phase, Teams will experience a new phase that is different from the previous ones. After the potential conflicts, when all the members of the team have found their place, the team start to live the norming phase. Everything start to be standardized, the team work better together.
The scrum master (or / and agile coach) should not hesitate to do Team Building from time to time, to bring the team to be truly autonomous in its organization and its continuous improvement.
In this phase, it will be essential to bring essential elements to the well-being of employees according to many studies:
a salary well attached to skills
skill developpement
autonomy and accountability
good communication
recognition of the work done
work conditions
More and more large companies today are investing in the well-being of their employees which helps considerably to move in this direction; on the other hand, it is not uncommon for the salary part to be still underestimated.
Tuckman model : 4/ Performing
When the group is in the best conditions to work, it starts the performing phase; Its productivity continue to increase. Governance is clear between individuals, interactions are built and bonds are strengthened between team members. Generally the team become more united around the same objectives.
We recommend to have a coach to be sure that the team don't stop to improve its practices. A lot of coach remind that: if you change the team, add a new member, you have the real risk to relive all the phases.
5/ Dissolution
Unfortunately, groups are not eternal and they end up entering in this fifth step which is always problematic for companies. Sometimes events will put the whole group in danger.
In the past, when a member of the team leave the company, it was not rarely to see 50% of the team (7 members) follow his way within the next six months. The company knew the dangers but never wanted to face them, hoping that moment would come as late as possible.
Fortunately today, I see more and more companies paying attention to this kind of trouble and thinking carefully about their choices. Anyway, now I see the opposite effect. A company has made the decision to keep a team member that some decision-makers don't like to avoid a massive leaving from the team; indeed, this one is very appreciated by the team and the risk is real.
But should we predict the death of each team?
Some managers, without admitting it openly, bet on the teams that will have a limited lifespan (1.5 years to 2 years) because they think that these teams will lose their performance over time. I let you to have your own opinion…
However, in the IT world in some cities like Paris or Geneva, it is becoming extremely rare to see teams survive beyond 2 years of existence. The turnover is very high and it becomes very difficult to cope; indeed, the IT profiles are in high demand in these cities.
(Visited 770 times, 1 visits today)