Today, I suggest you look at a classic retrospective very popular in many companies: retrospective 4L. This retrospective is a great classic that deserves to be known.
Feel free to read our other retrospectives on this dedicated page:
Required material for retrospective 4L
For this retrospective, you don't need a lot of material. It will be necessary to have:
a whiteboard or flipchart
sticky notes
pens
The overall time to plan is 40 minutes.
All steps
The course of this retrospective is very simple. The facilitator will propose the board below to the participants. This offers 4 different themes:
liked: what I liked
learned: what I learned
laked: what i missed
longed: what I wanted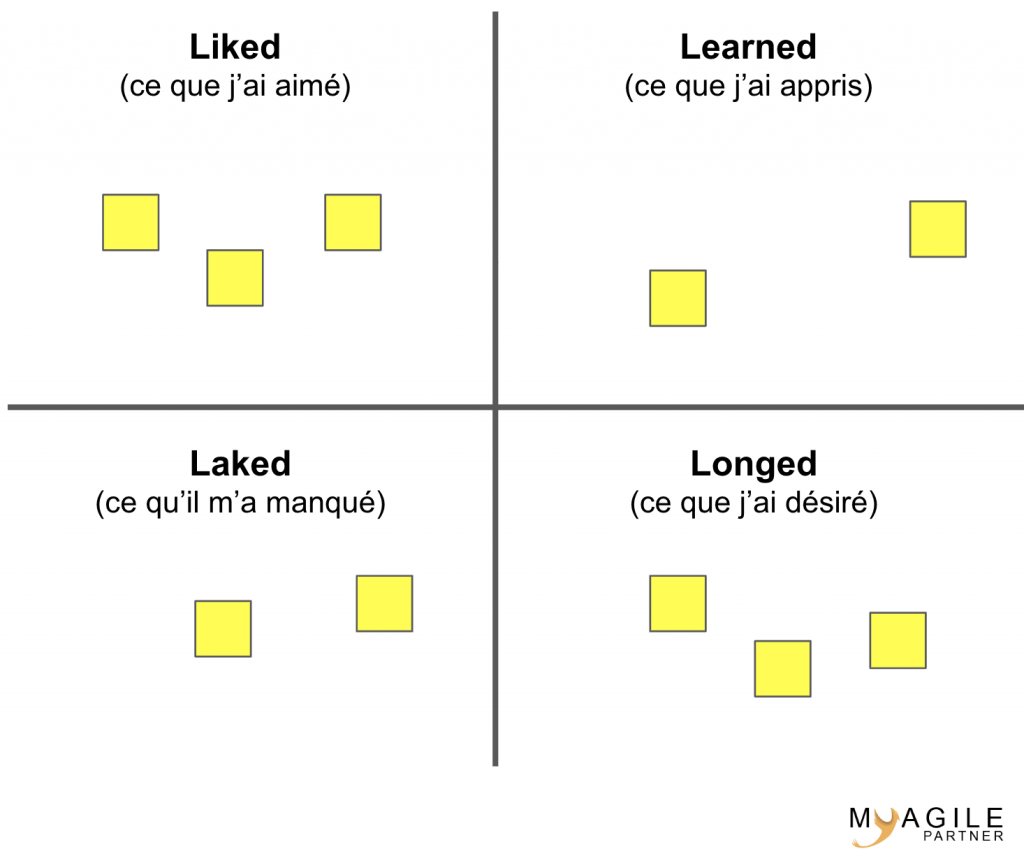 Step 1 of  retrospective 4L
The facilitator will ask participants what are their ideas around the 4 themes presented above. Participants will write the post'its (1 idea per post'it) to fill in the boxes on this board. Each participant will not have the obligation to make one post per box but may propose several post'it for the same box.
Duration: 5 minutes
Step 2 of retrospective 4L
Then the facilitator will ask each participant to read what he has written on the post'its and put them on the board.
In parallel, the scrum master will take advantage of this to bring together the post'its dealing with the same idea in order to improve the readability of the different ideas raised by the team.
Duration: 10 minutes
Step 3 of retrospective 4L
The facilitator will suggest that participants take 5 minutes to write down the axis of improvement on the post'it, knowing that they can only put one idea per post'it. Then, he will ask the participants to explain them to others while placing them on a board dedicated to axis of improvement.
Duration: 10 minutes
Step 4 of retrospective 4L
The participants will make a Dot Voting to define the 3 main axis of improvement on which the team will work during the next sprint.
The scrum master will not forget to ask participants to choose a volunteer to be responsible for monitoring the implementation of these axis of improvement. It is important to remember that it is essential to empower people to ensure that the axis of improvement will not be forgotten after the end of the retrospective.
Duration: 10 minutes
Conclusion: retrospective 4L
This retrospective 4L, which has become a great classic retrospective, may one day serve you. If your team discovers agility and you can't use a format that is too "gaming", then this format is for you.
Useful link: retrospective in french
(Visited 1,174 times, 1 visits today)